Breakthroughs for development of handicraft exports
Thursday - 27/02/2020 12:37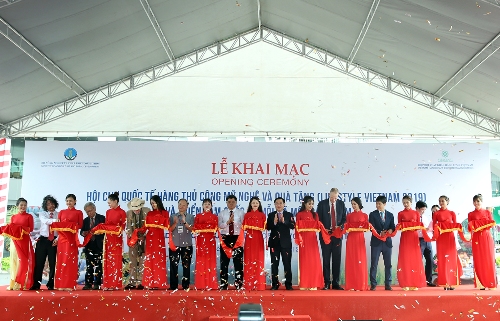 Deputy PM Vuong Dinh Hue attends the Viet Nam International Trade Fair of Handicraft and Gift (LifeStyle Viet Nam) and the One Commune One Product (OCOP) International Trade Fair, April 17, 2019 - Photo: VGP/Thanh Chung
The fairs were jointly organized by the Ministry of Agriculture and Rural Development and the Viet Nam Handicraft Exporters Association on April 17.
Deputy PM Vuong Dinh Hue, head of the Central Steering Committee on National Target Program and leaders from ministries, agencies, localities and domestic and foreign businesses from 15 nations in the world attended the events.
The Lifestyle Viet Nam and the OCOP attract the participation of more than 700 booths from 40 enterprises nationwide and enterprises from 15 nations and territories including Japan, the Netherlands, India, Laos, Cambodia, Thailand, China, Kenya, Senegal, Afghanistan, Madagascar, Botswana, Australia, Nepal and Russia.
Photo: VGP/Thanh Chung
According to the organizing board, more than 1,600 international customers from 50 nations and territories have registered for and imported OCOP and handicrafts.
In Viet Nam, the OCOP has been launched since 2006, which makes contributions to restructure agricultural production and handicrafts as well as improve incomes for local people.
In 2018, the export value of the handicrafts reached more than US$2 billion, creating 1.5 million jobs for local people.