OANA Executive Board convenes 44th meeting
Thursday - 27/02/2020 10:33
VGP - The 44th Executive Board Meeting of the Organisation of Asia-Pacific News Agencies(OANA) officially opened in Ha Noi on April 19, with the theme of "For a professional and innovative journalism".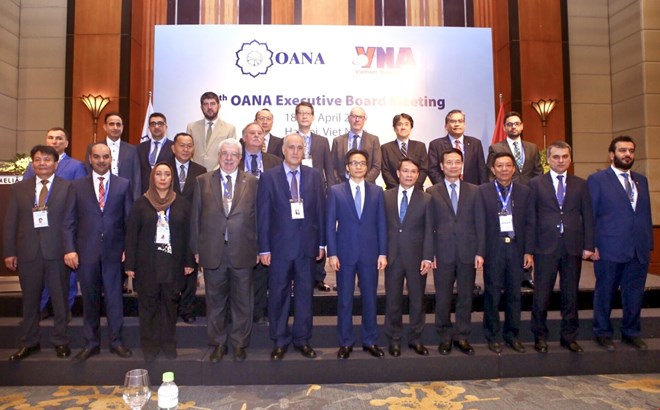 Hosted by the Viet Nam News Agency, the meeting focuses on three main contents, including strategies of news agencies in response to changes in information use behaviours which focus on video clips and the YouTube platform; fake news and fact-checking; and regaining trust for mainstream news.
Addressing the opening ceremony, Deputy Prime Minister Vu Duc Dam, member of the Communist Party of Viet Nam Central Committee, said in recent years, in the wake of numerous forms of communications based on modern technologies as well as fast and widespread of faked news, the OANA not only serves as a direct channel to provide information to news organisations and partners but also serves as a fact checker o help bolster the trust of the public in traditional press.
The OANA's activities, such as building journalism guideline in news reporting, editing, granting of awards in quality journalism and photo exhibitionsre, aimed to improve the effectiveness of information and to strengthen its role as a leading news organisation in the region and in the world, he said.
The Deputy PM stressed that since the reform era, Viet Nam has made milestones in its development effort, which have been recognized and appreciated by the international community.
During that journey, the Vietnamese press has been standing side by side with the country, Dam said, adding that there are currently almost 100 news organisations in Viet Nam that employ 41,000 workers, of which 19,000 are journalists.
The Vietnamese press and the VNA will continue to play an important part in bringing the news on the latest policies and laws to the people, in protecting citizen rights and to help promote the image of Vietnamese culture and people, Dam said.
The agency's cooperation and information exchange with more than 40 international news agencies around the world has played an important part in the promotion of Viet Nam as a beautiful country, of Vietnamese people as a friendly and peace-loving people. The VNA will remain a bridge to connect Vietnam with our international friends and partners, the Deputy PM added.

"This year's hosting of the 44th OANA Executive Board Meeting in Ha Noi has significant meaning as it marks the 50 years the agency has been a part of the OANA. We believe that the 44th OANA meeting will bring a breath of fresh air to the development of the organisation as well as the member agencies," he noted.