Vietnam and Australian tourism training institutions agree to work togeher
Friday - 05/04/2019 11:17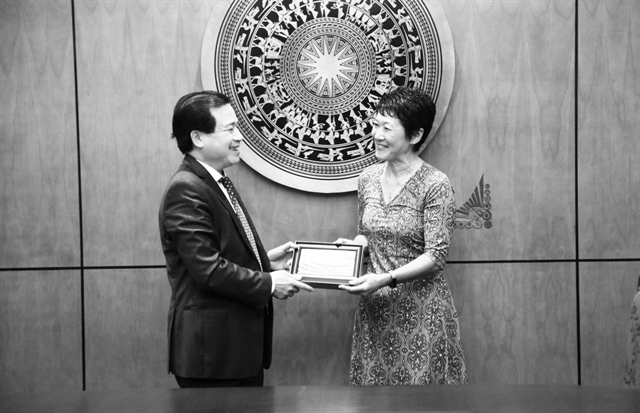 VNAT vice chairman Hà Văn Siêu and Australian Senior Trade Commissioner Yvonne Chan meet to strengthen co-operation this month. — Photo courtesy of VNAT
Accordingly, the Việt Nam - Australia Tourism and Hospitality Education and Training Showcase took place in Hà Nội and HCM City on April 3-4 with the participation of Australian and Vietnamese institutions and business organisations.
They exchanged expertise and committed to co-operate in training and sharing experiences.
The Australian Trade and Investment Commission (Austrade) brought nine leading Australian institutions in tourism and hospitality to Việt Nam for the programme.
The initiative combined a series of activities, including governmental meetings to foster the bilateral relationship between the two countries, a panel discussion for both Vietnamese and Australian organisations to exchange expertise and explore partnerships, a showcase and one-on-one business matching sessions.
"Australia is proud to share with Việt Nam our world-class expertise and excellence in education and training of high-quality human resources in tourism and hospitality for the fast but sustainable growth of Việt Nam's tourism," said Yvonne Chan, Australian Senior Trade Commissioner.
According to the UN World Tourism Organisation (UNWTO), in 2017 Việt Nam ranked in the world's top 20 fastest growing travel destinations. By 2025, the industry aims to contribute 10 per cent of GDP and generate income for six million people.
To reach this target, according to the Việt Nam National Administration of Tourism (VNAT), the tourism sector needs nearly 40,000 more labourers every year, particularly skilled workers and qualified professionals.
Addressing the programme, Đào Mạnh Hùng, chairman of the Việt Nam Tourism Education Association (VITEA), emphasised the important role of developing human resources for tourism.
"Through the co-operation, I expect that Vietnamese universities and colleges will have a chance to work with Australian training institutions and gain more experience," he said.
Tourism and hospitality is already a leading contributor to the Australian economy. Australia's travel and tourism industry ranks seventh for its competitiveness in the World Economic Forum's Travel and Tourism Competitiveness Index and seventh globally for tourism receipts in 2017, according to Chan.
"Australia benefits from its natural assets, attractive tourism products and unique experiences, however, one of the main factors of its success is that it employs world leading expertise across the entire tourism supply chain, particularly in training and education. This is exemplified by its highly respected vocational system and qualifications."
Australia is home to ten of the top 50 universities specialising in Hospitality and Tourism Management in the Academic Ranking of World Universities in 2018.
"Australia's education and training providers have significant expertise in equipping employees with the skills and knowledge to service customers that are increasingly global and becoming more discerning. This is important because a better trained workforce will deliver greater customer satisfaction, higher spend and most importantly repeat visits," said Chan.
Austrade also introduced a Tourism Education and Training Industry Capability Report to highlight Australian expertise and practical examples of Australian know-how in delivering tourism training and education to the world. — VNS